News
---

February 5, 2019
Freiburg 2021
Our 23rd European Economics Education Conference will be held in Freiburg Germany.

Our host will be Pädagogische Hochschule Freiburg.
---
December 28, 2018
Holiday Greetings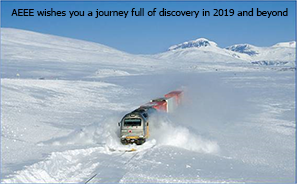 Photocredits see https://commons.wikimedia.org/wiki/File:CargoNet_Di_12_Euro_4000_L%C3%B8nsdal_-_Bolna.jpgRead more
---

August 3, 2018
The conferende programme is online
Our conference programme is online. When you are logged in, you can create your won personal schedule for the conference.
---
Last 3 Blogs
---
November 21, 2016
Me and My City – an Experiential Method for Learning Economics for primary school students
---
September 2, 2016
Helping students to think rationally about migration
---
August 30, 2016
21st European Economics Education Conference, Kufstein, Austria
---
Calendar
---
May 20, 2018
Deadline for proposals
Read more
---
June 1, 2018
Supplement Late Register
Read more
---
August 22, 2018
AEEE Conference 2018 Copenhagen
Read more
---
August 23, 2018
AEEE Conference 2018 Copenhagen
Read more
---
August 23, 2018
AEEE Conference 2018 Copenhagen
Read more
---
August 25, 2018
AEEE Conference 2018 Copenhagen
Read more
---